The
Society of the Cincinnati
was founded by Continental and French officers who fought in the Revolutionary War. The society was formed to continue to foster the friendships built during the war and in remembrance of the principles for which they fought. The society is named for the Roman hero
Cincinnatus
. George Washington was elected the first President General of the society, a position he held until his death in 1799. The society has continued through the membership of direct descendents of the original founders and other eligible officers.
"In addition to a museum and library at Anderson House, the Society supports scholarship, publications, historic preservation efforts and other programs to promote increased knowledge and appreciation of the achievements of American independence." --
Short History of the Society
The headquarters of the society is housed in
Anderson House
, a beautiful Guilded Age mansion in Dupont Circle, Washington, DC.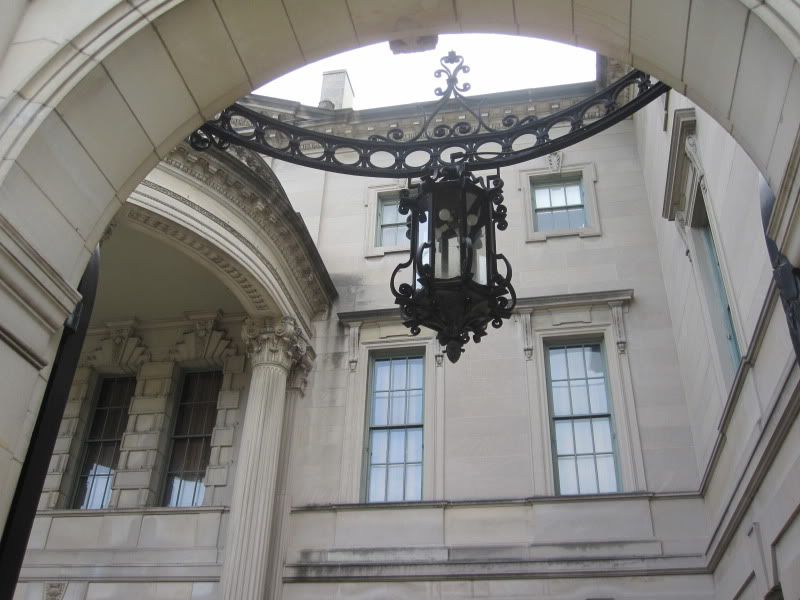 The house was built as the winter home of Larz and Isobel Anderson in 1905. The house is impressively preserved to showcase the original architecture and furnishings. The billiard room has been converted into a small exhibit space.
The home is a National Historic Landmark and is well worth a
visit
if you have the opportunity.
In 1998 the basement was entirely renovated to create an inviting
library space
for researchers to access the impressive collection of "printed and manuscript materials relating to the military and naval history of the eighteenth century, with a particular concentration on the people and events of the American Revolution." The collection spans several areas including, The Art of War, Official Military Documents, Contemporary Accounts and Discourses, Manuscripts, Maps, Papers related to the origins of the society, Anderson Family Collection, Graphic Arts, Literature, a Modern Reference Collection (works published post 1820), as well as books published by members of the society. This collection is a must see for any researcher interested in the Revolutionary War. Anderson House is open for public tours, see their
website for more information
. Contact the library if you are interested in researching the collection. The library does sometimes accept volunteers for projects. Email the library at "library (at) societyofthecincinnati.org" for more information.