The
Hirshhorn Museum
is part of the Smithsonian Institution and houses an impressive collection of art. The Hirshhorn is
located on the National Mall
next to the Air & Space Museum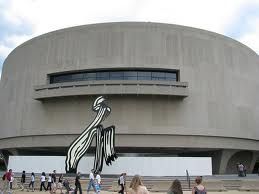 and also maintains the sculpture garden which has some interesting pieces by Rodin among others. The museum is developed around the core collection bequeathed to the Smithsonian by the Founder
Joseph Hirshhorn
in the 1960s. The collection spans impressionism to modern pieces and is a beautiful representation of 19th and 20th century art.
The Library was founded with the museum in 1969 and is a research collection developed to complement the art found in the museum. It contains exhibition catalogs, serials, and ephemera. The library also participates in publication exchange. I had the opportunity to spend some time in the library photographing some of the
Artists Books
for the internal digital asset management system as part of a project to review the collection materials for an exhibition. It was wonderful to learn about the collection and get a glimpse into the workings of an art library and Smithsonian Institution Collections.
Navigating the Hirshhorn Museum and Library website is a lesson in patience. The site is difficult to maneuver and
incredibly over designed
. It is a solid representation of how to make something visually stimulating but practically unusable. I do not have any pictures of the library itself. The library is not open to walk-ins because it is located on the fourth floor of the Hirshhorn Museum building. It is accessible through the elevator, however the floor is closed to the public because it contains staff offices. Anyone is welcome to use the Hirshhorn's library by appointment. Arrange a visit by emailing hmsglibmail@si.edu or calling(202) 633-2836. The elevator is quite cozy, fitting no more than five people reasonably, with a guard stationed inside to check access for the fourth floor. Security in the Hirshhorn elevator is not a position for someone with claustrophobia, that's for sure.
I did take two pictures of some of the art in the collection, because I found the first a little disturbing (he greets you in the basement floor as you come around the corner, is massive, and quite lifelike. The other is a collection of painting that reminded me of a friend's tattoo of Kazimir Malevich's
'Black Square on White Canvas'
. I snapped it to text to her. It's actually a very well done tattoo. I don't remember either artist. If any reader does, please post in the comments. My lack of foresight into the usefulness of more pictures when I had the chance means that given the opportunity, you'll have to visit for yourself. You can
browse the catalog
to see what's of interest. This catalog links to all the Smithsonian libraries. The Hirshhorn Library is an impressive research collection and dose contain over 60,000 items, many unique and some quite rare. Each Smithsonian library maintains a unique collection and I hope to visit them all someday.