The
James Melville Gillis Library
collection dates from 1830. The library was developed as part of the US Naval Observatory, and today is found in the main building, built in 1893, and sits on hilly ground in the Georgetown area of Washington, DC. A brief history of the observatory can be read
here
. The library is housed in the wing on the right of this photo of the main building on the grounds as seen in this picture taken from the library website.
As you enter the building and are greeted with display cases on the right and left showcasing items from the collection, you may feel as if you are walking back in time. Pass the telescope and take a right down a hallway with high arched ceilings for the first glimpse of the space through large double iron gates.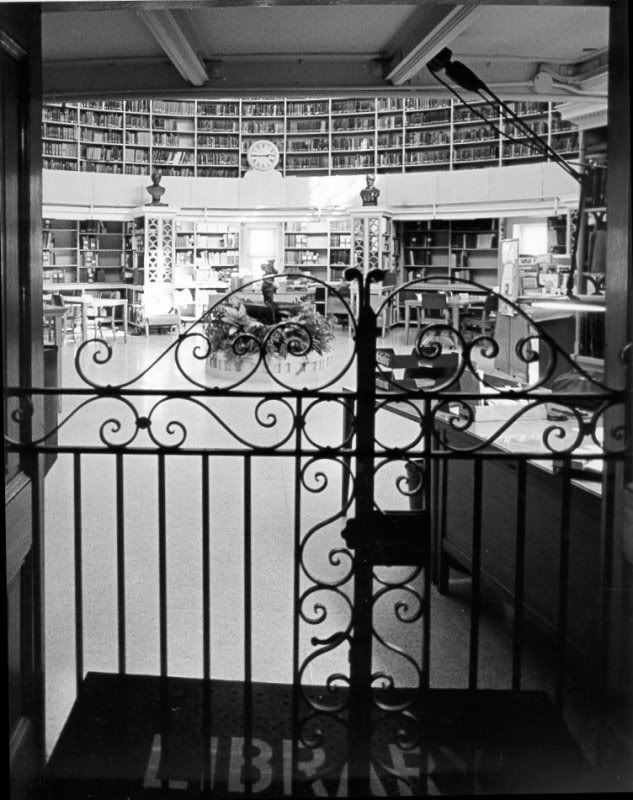 This image is taken from the
James Melville Gillis Library collection
online. The following images were taken during a tour with the library manager, Sally Bosken.
The library itself is generally closed to the public because of security on the grounds. Many items are available through inter-library loan, or researchers may visit upon special request. The library has two staff who work with the naval staff on site and assist with research, publications, and information access. The collections focus on astronomy and hard science, publications of the US Naval Observatory, and contain both print and electronic resources. The library also maintains an amazing collection of over 800 pre-19th century rare books, including works by Galileo, Copernicus, Einstein and Newton. The library is architecturally and historically fascinating. The grounds are beautiful. This is indeed a special place, and an amazing special library.
The library does occasionally take on volunteers. If you are a library science current student or recent graduate interested in astronomy collections, cataloging rare books, or other possible projects please contact the library using their
online request form
.
The Vice President lives on the grounds, and the library space is often used for for special events such as dinners or
vice presidential interviews
. These are pictures of the view from the telescope roof on the left side wing of the building, of the telescope still used to mark official US time, and the telescope inside the dome on the main observatory building.