A few weeks ago I spent a weekend in Philadelphia with my husband. It was my first time in the city and we did the usual visit to the birthplace of democracy;
Independence Hall
, the Liberty Bell,
Betsy Ross's house
, Ben Franklin's print shop and post office, and
Elfreth's Alley
. We barely scratched the surface of things to do, but only had one day in the city. We decided to spend the afternoon visiting the
Mütter Museum
.
The museum is amazing. It definitely has disturbing elements. For me, the wall of fetal deformities was a little difficult to take in. There were exhibits linking Grimm's Fairy tales to medical conditions, and I learned more than I ever intended about skin conditions and the assassinations of Lincoln and Garfield. Check out this article from the
British Society for the History of Science Travel Guide
for more information about the museum. There was a wonderful quote on a display description that sums up the importance of the collection well.
"A great museum collection is as important to medical education as a great library because specimens are nature's books"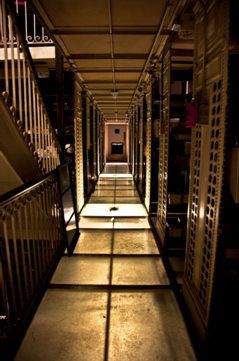 While at the Mütter I learned about the
Historical Medical Library
also housed in the building. Established in 1788, it's one of the world's premier research collections into the history of medicine. Over 400
incunables
, manuscripts, archives, and 19th and 20th century medical journals. Sadly, I did not have an appointment, so I could not visit the stacks. The library is open by appointment only Tuesday, Wednesday, and Thursday, 10:00am to 4:00pm.
If you want to see specifics, you can search the
catalog online
. The
Catalog search help
is fairly comprehensive if you would like a tutorial in how to use their catalog system.
Also available for distance visitors are the
digital resources
,
Digital Books
and two digitized
18th Century Manuscripts.
See the
library website
for history of the collection, or read this very informative article from the
Pennsylvania Center for the Book
, which is part of the
Literary and Cultural Heritage Map
. Photos are not allowed within the museum so these shots of the door and the one taken from the library website above will have to satisfy your visual cravings.